Many of us in the business world have heard someone say, "you have to spend money to make money" and while that is mostly true, you must be mindful of where you're spending your advertising dollars to get the most bang for your buck. When it comes to advertising campaigns, you don't have to break bank when buying the most effective media. We've got you covered…insert, BILLBOARDS! Billboard advertising provides advertisers with one of the lowest CPMs (cost per thousand impressions) amongst media channels with a national average CPM of $5.22. You will reach thousands and thousands of commuters while keeping your marketing budget happy.
When researching best media channels that will deliver high impressions, you will see that the most popular media includes TV advertising, online advertising and out of home advertising. In the below graph, you will see that television has one of the highest CPMs with a national average of $16.13. The next highest CPM you will notice is online advertising with a national average CPM of $11.13. So, stick with the most cost effective advertising and include billboards in your plan!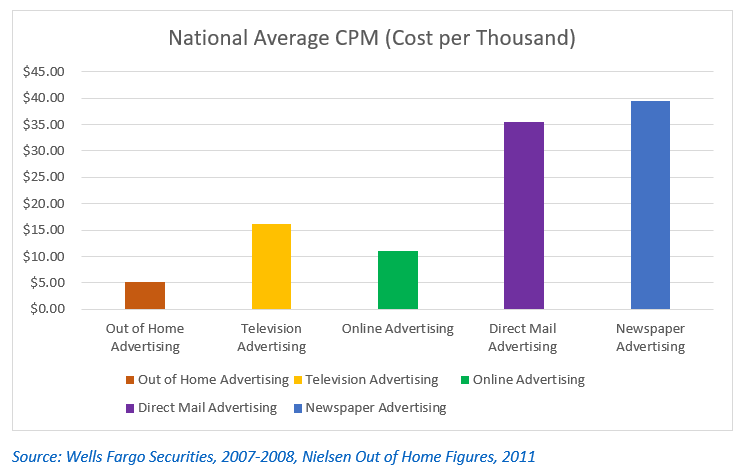 When you are looking at the numbers for a campaign, out-of-home advertising will provide you/your client with the capability to reach a large audience at approximately half the cost compared to television and online advertising. Keystone Outdoor Advertising, one of Philadelphia's largest and only locally owned billboard advertising company, can tailor a billboard campaign that fits almost any budget while providing you with the superior customer service that we have been known for over the past 45+ years. We hope to see you on a billboard soon!